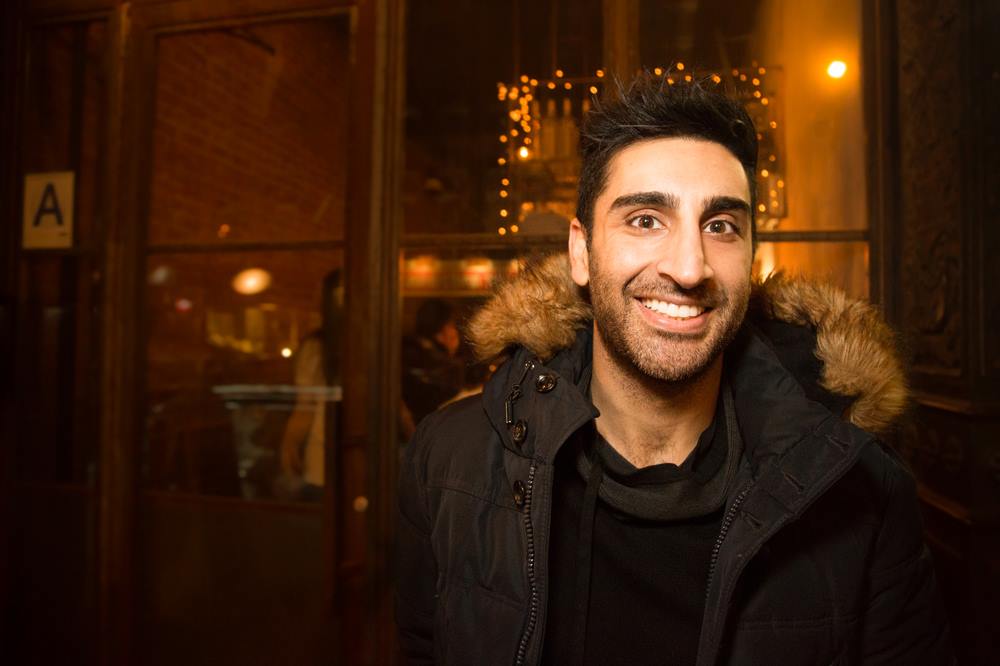 Hey, thanks for coming to check out my site. I'm a comedian based in NYC, but I'm starting to travel pretty often now. In fact I'm currently overseas for some shows as I'm writing this. If you made it here, the last section of this site, you may have already seen me perform or maybe you soon will...Anyways, this "Message from Gibran" part of the site is really just to be more honest, personal and less gimmicky with people.
It took me a while to realize what I was gonna do with my life, and more importantly, what was going to fulfill me. Which is what I am doing now. In high school I wanted to be hip hop producer and make beats, then I went to college for an art program and thought I was going to be a graphic designer. Then I started baking cookies on the side and debated starting a cookie company. My parents thought I was going to be a psychiatrist. They're divorced, so that means twice the disappointment. When I was 22 I was accepted into a grad program in NY for psychology. They were happy. I started working a lot with kids with various mental health backgrounds. I went to England for a summer and lived and worked at an obesity camp for children. They called me Dr. Pepper, but once they realized I wasn't a doctor it changed to Mr. Pibb.
I was now in New York, the birthplace of hip hop, the mecca of comedy, and capital of neuroticism. I started to get depressed. I didn't have a creative outlet anymore, any family or friends around, and lived off a diet of bagels and water. I would devour any comedy I could get. When I had money I would go to shows. I met a professional comedian named Greg Geraldo after a show and asked him for advice. He told me not to compare myself to other people and that the world is much bigger than what you think you can control. It made my day. I didn't know I was going to do stand-up. He died in 2010. That's when I walked into an open mic by accident, thinking it was a show. Thats when things started changing. It took me 6 more months to try it myself and slowly things started to make sense. I put school on hold and did a lot of random jobs, I taught soccer to children, I tested video-games on cellphones, I got paid to shred shady ass paperwork at a shady ass company. I interned at a social media agency and finagled my way into doing freelance digital advertising stuff. All in all I would just quit or get fired for cutting out early to tell jokes. I didn't drop out of school, but I didn't not drop out either. I eventually finished my Master's on the side and turned down the PhD route. I ended up back in psychology working with mentally ill, chemically addicted inmates in prison and people in homeless shelters around NY. It was an invaluable way to learn more about the world we live in, but was often dark and intense. The second I'd get off work I'd go straight to a show or mic and feel emotional relief. For a couple years I didn't sleep much, stayed out of healthy relationships and lied to my family a lot. My dad got into a bad accident and I got really scared. He was in a hospital paralyzed. I wasn't sure if he was going to recover. I cried. I quit everything - except comedy. I made peace with various conflicts in my life/family and eventually my Dad started to walk. It wasn't that long ago. All the random exploration and events helped me find and fall deeper for comedy. If I wrote a movie it would be a romantic comedy about hooking up with a microphone. In fact, I'm already writing it.
I love comedy. Comedy was the only thing that really made sense to me. I love it to death and I love all the people I get to meet. Even the shitty ones (not you, you're cool). They keep me sharp. So good, bad and in-between, thank you for being here, there or wherever the hell you are. Thanks for reading this and thanks for helping me become me. Without you it would just be an empty room with a stand and a stool. Hopefully you'll follow my journey, hopefully I'll see you at a show, and hopefully, I hope to god, you will laugh.

- Gib